Akasu - The Making of a Legend by Lee Paul Dalby
Prologue Part 1/2
The Akasu Elemento (AE) project was initiated by Lee Paul Dalby from United Kingdom 5 years ago without any commercial considerations and third-party funding support.  I was intrigued from the outset of this unique daring conception and closely followed its design and engineering progress ever since. It's a freak of nature. A one of a kind. I proclaim it as the "Analog Turntable of the Century".  
The goal is neither to claim it is the most expensive turntable in the world (there is not a price tag attached to it) nor whatever "the best" means. Indeed, the Akasu wasn't made for resale. They will only ever be three: one for Lee, one for Chris of AE, and one for spare.  The ordeal is to exemplify an attitude and a standard of extreme artisanal craftsmanship, to ascertain it a legend. 
The objective of the design is to resurrect the soul of artists through recorded music on vinyl without sonic coloration by the materials that the turntable are built upon.  (Beware minimization of mechanical vibrations does not warrant the elimination of sonic signature of material from a lump of copper and alumimium). The engineering required to prove Lee's philosophical goal is a gigantic undertaking never ever attempted by anyone hitherto. Lee counts on AE to unleash the full potential of it at Divin Lab.  (He had not listened to the Akasu before shipment to Hong Kong.) Dalby Audio Design and Audio Exotics shall make history.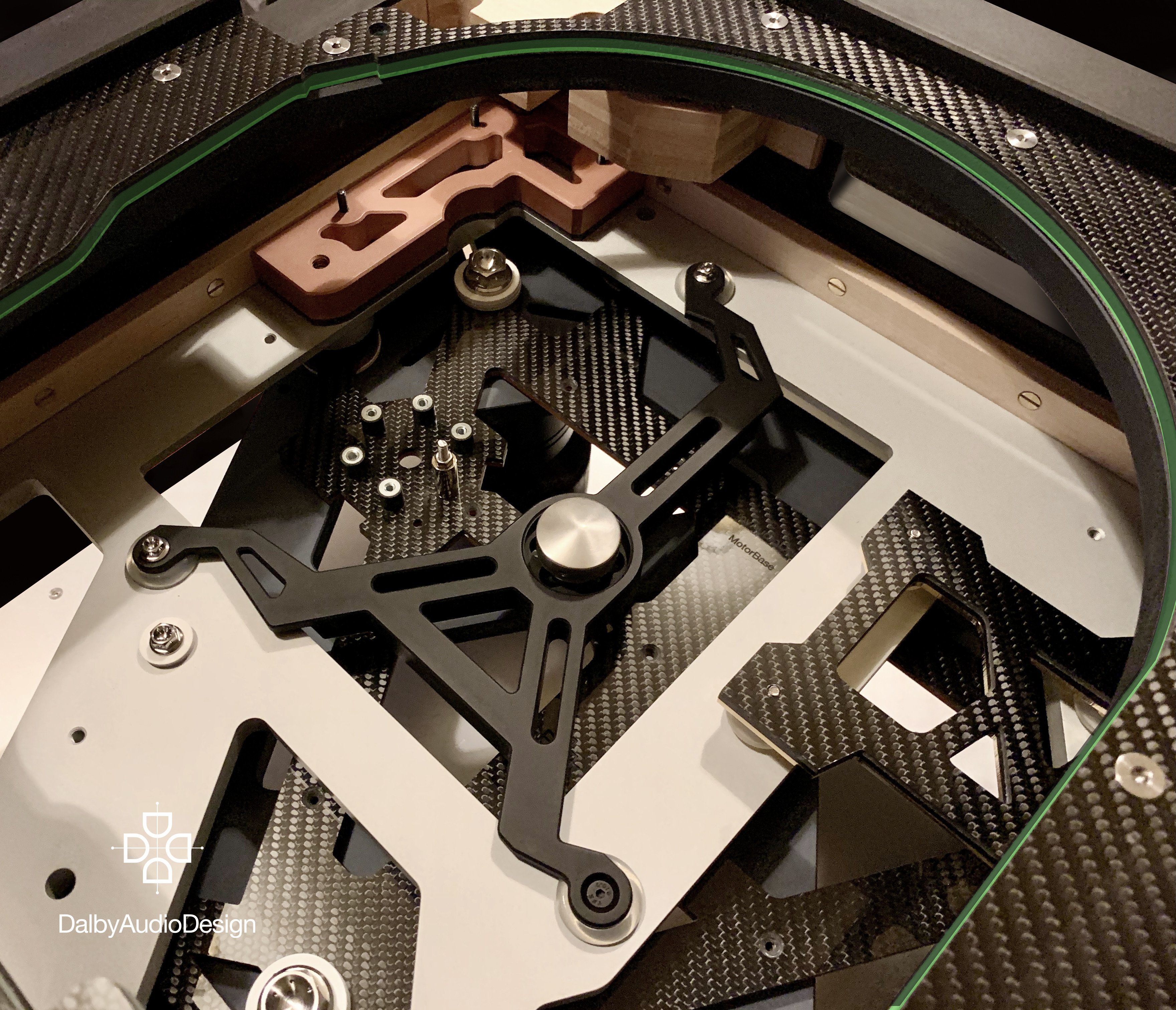 Akasu is something that wouldn't be out of place inside the library of Buckingham Palace.  Lee joked with me and said, "Akasu will still be around decades later after I'm gone." The word 'upgrade' does not illuminate positivism to Lee because it wasn't the best it could be to begin with. 'Do it once, do it right', springs to his mind. This is not a typical business approach for repeat sales, but Dalby Audio neither aims at conveyer belt sales, nor schmoozing at biggest audio shows. Dalby Audio is simply enigmatic and off grid, just like it's founder.
The Heart
At the heart of Akasu is an evergreen Garrard 301 transcription unit, discovered through a fascination with vintage audio in the theatre era of 1930s-50s. During Lee's quest for vintage Western Electric over the years, a humble Garrard 301 caught a spot in his heart.  There was something charming about the sound quality that Lee likes it so much despite its obvious flaws, mostly due to mechanical rumbling noises crowding out finesse of musical details. It spurred him on to formulating a grand plan to transcend the 301 to be a masterpiece - with all the anomalies ironed out. 
Let's get it straight here – other than the motor and the control levers remain, nothing is left.  The project is not a simple transcription of upgrading old parts.  Nothing is off the shelf and all components are custom made by craftsmen with respect to over hundreds of original CAD drawings. It is a gigantic engineering transcendence project with a clear philosophical quest - we should not hear what the turntable is made of by what materials. 
Lee states: "Turntable is a complication of systems fighting against each other. Negative and positive forces going about their business. The aim is to create the most silent environment for each system so that they work seamlessly without hindering each other."  The complexity of making Akasu starts from within.  There are meticulous works on numerous tiny jewelry-grade engineering details not seen from the physical exterior. Lee has strong conviction that every little thing adds up, for instance, the deployment of hundreds of titanium screws matter to the consequential sound quality.  In reality, simple things aren't always easy to implement. In fact, when pursuing such things, they become increasingly elusive and seldomly achieved. Yet Lee had chosen to carry on at whatever the cost.